⏰ 3+ hours of content 👩‍🏫 5 modules🔥 Course creator AMA 🛠 9 exclusive templates 👨‍💻 100% self-paced 🔖 Official certification

F
Course overview.


Enroll now and access all-important insights that'll help you establish yourself as a strategic partner. Develop the exceptional collaboration and communication skills necessary to deliver value and make a meaningful impact within your organization.
Such is the unique nature of the product marketing role, experts need to hone their communication skills and build solid relationships to facilitate success.
This certification explores practical tips and strategies to help you overcome common challenges that a product marketer faces when working with a variety of teams across a business.
Learn how to lay a strong foundation to ensure that collaboration is successful, regardless of where you are in the organization, the product cycle, or your career, and receive step by step instructions directly from Alison, a seasoned professional in the product marketing industry.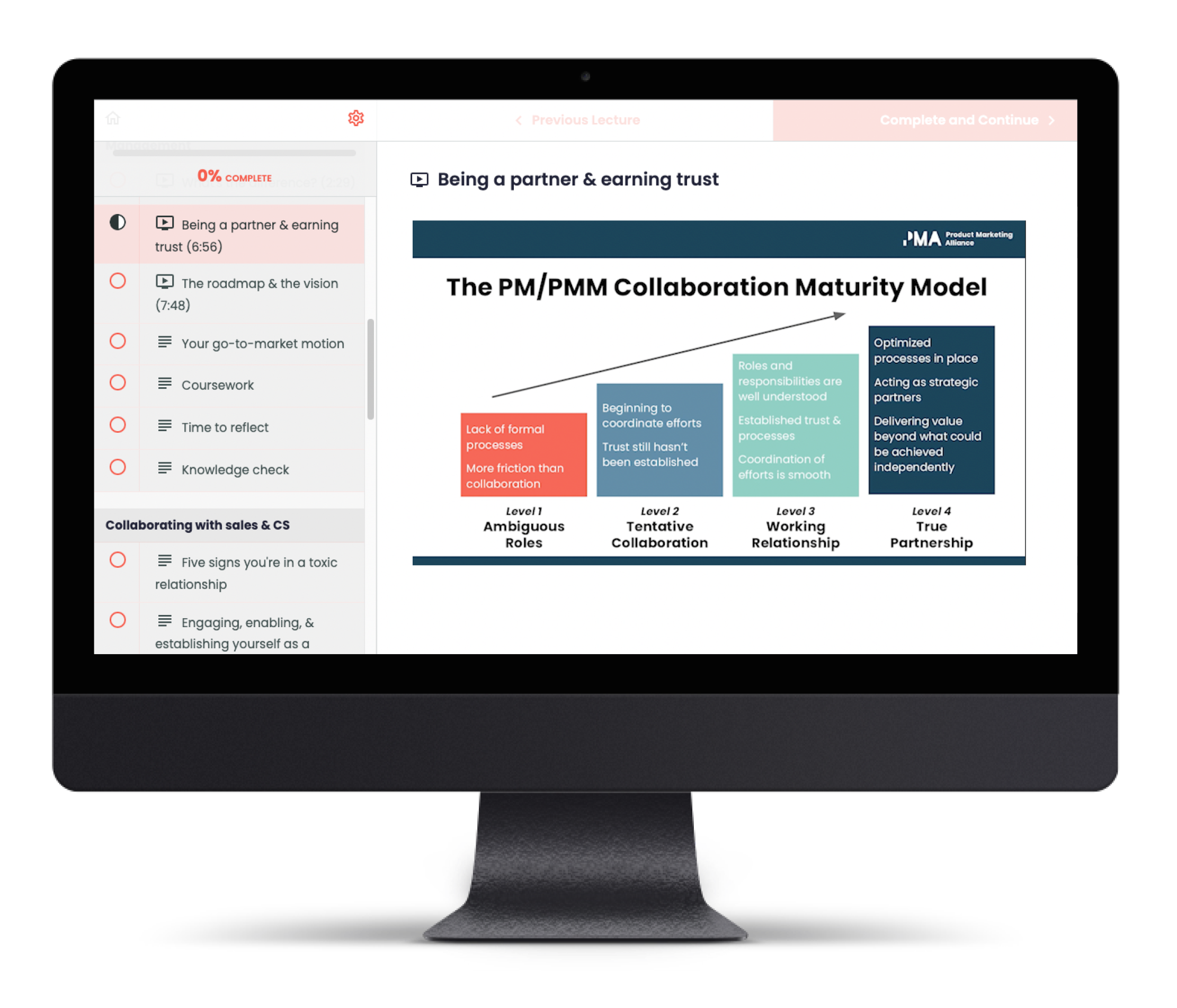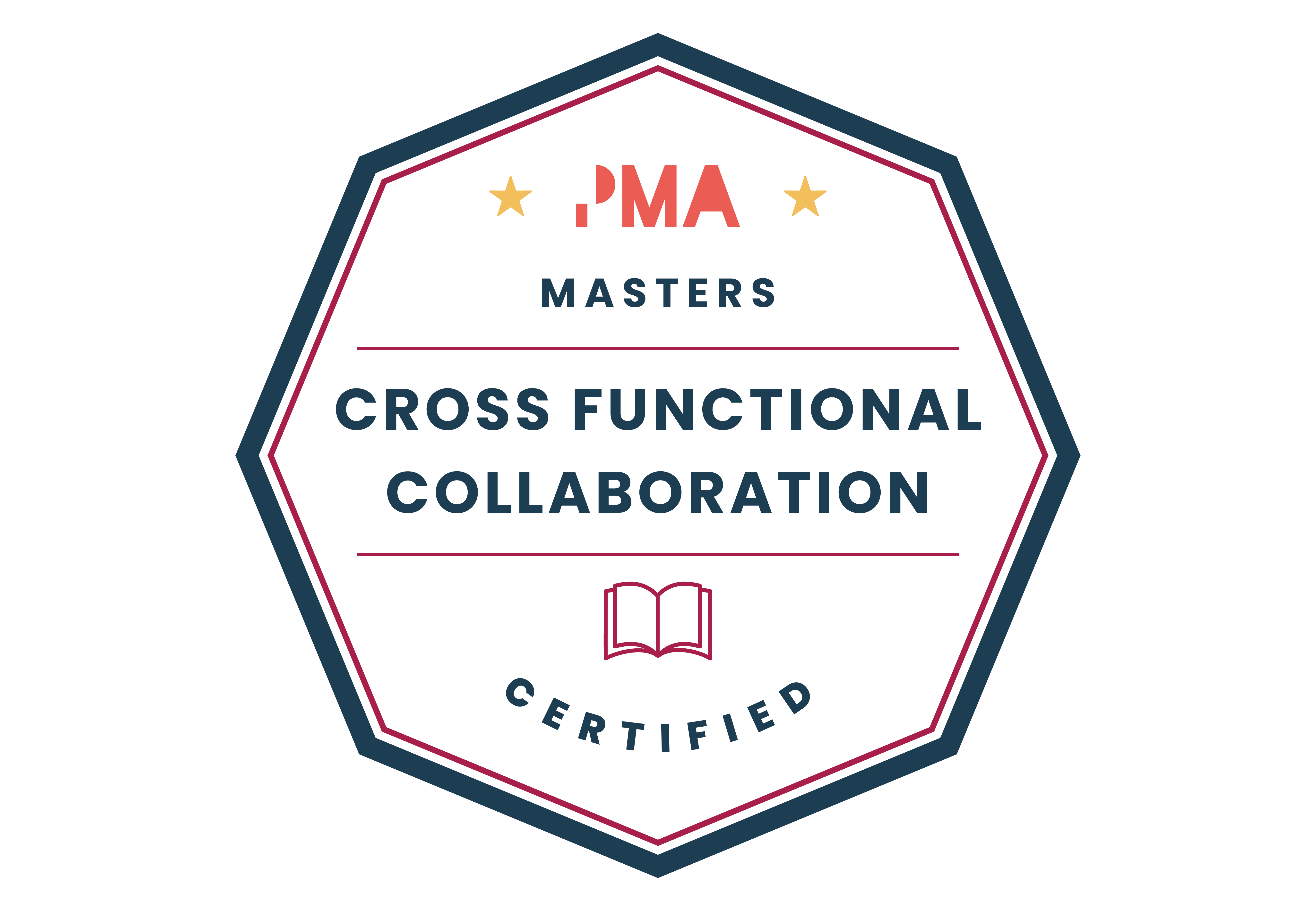 This course will help you:


📣 Articulate and establish Product Marketing's mandate internally, the value that you bring to the table, and why you need (and deserve) to be included in strategic business conversations.
🤝 Establish win-win working relationships with your counterparts in Product, Sales, Marketing, and Customer Success.
🎯 Bring in the right people at the right times on the right projects, improving outcomes and increasing the value your business gets from Product Marketing-led initiatives.
👏 Gain the respect, buy-in, and recognition for your efforts that you deserve, from your peers and your executive leadership.



"The course was informative and provides some good tools and templates to establish and improve cross-functional collaboration. I love the RESPECT acronym as it's easy to remember. The content level is good for new PMMers and still good nuggets for more tenured PMMers."

Maina Geraghty, Marketing Director, Geraghty Creative

Meet your instructor, Alison Hayter.


Alison is the Director of Product Marketing at Loopio. Throughout her career she has been both a solo product marketer and the head of a product marketing team; she's been the first product marketing hire and she's inherited more mature product marketing functions. Yet at every company, one thing has remained true. Product Marketing's ability to succeed and deliver impact has always depended on establishing productive, collaborative working relationships with key stakeholders across the organization. 
Alison has spent the last decade helping B2B start-ups and scale-ups deliver compelling, customer-focused narratives and hit ambitious revenue targets. She built the Product Marketing function from the ground up at Intelex Technologies, later acquired for $570M USD in 2019 in one of the largest Canadian tech company exits of the last decade. She's passionate about sharing her knowledge and coaching the product marketing leaders of the future.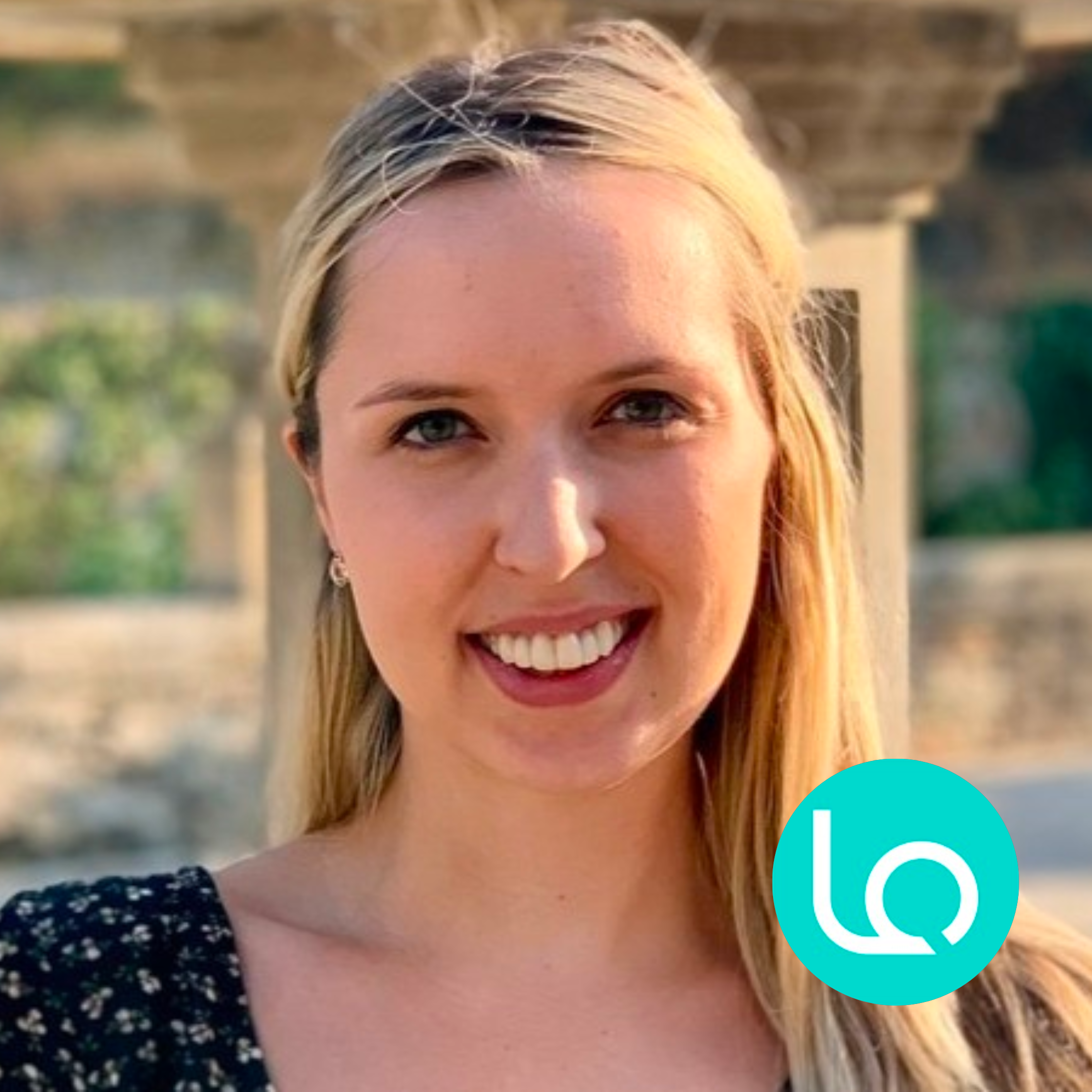 Unlock an additional 24+ courses 🔓

For the cost of just four Masters courses ($500 each), you'll gain access to our entire suite of courses,

700+ hours of strategy content, templates & frameworks, mentorship opportunities, and more when you become a Pro+ Member.

We're talking $15,000+ worth of PMM resources for $1,999. 👀

What you can expect from Cross Functional Collaboration Certified
"This course really helps align how to build a stronger relationship with different teams to achieve goals and positively impact future solutions. I highly recommend this course to anyone who is looking to establish collaboration and enhance engagement with different teams."

Iman Bayatra, Director of Product Marketing, at Coachendo 

FAQs.
Q: Who's this course for?
A: With effective communication regarded as one of the most important soft skills in the wider world of work, technically speaking, this certification applies to everyone within the product marketing community.
Whether you're an entry-level professional pivoting into the world of product marketing, or a seasoned product marketer with years of experience, this course can introduce you to new concepts or help you refine existing skills to ensure you're communicating and collaborating effectively with everyone across your team and organization.
Q: How does the course work?
A: The course is 100% OnDemand and fully self-paced. Once you enroll, you'll work through the modules in chronological order and be invited to take part in activities. At the end of each module, you'll be presented with mandatory exam questions and if you pass all these, you'll become Cross-Functional Collaboration Certified.
Q: How long will the course take to complete?
A: The course content, activities, and exams will take approximately 3 hours to complete.
Q: What happens if I don't pass the exams?
A: If you fail the first time round you'll be given the option to retake the exam. If you fail the second attempt, unfortunately, it means you won't get the certificate. However, all's not lost, you'll have still learned LOTS and you'll be given access to the course materials for life - so you can brush up on the bits you slipped up on forevermore.
Q: How long will I have access to the course content?
A: For life! One, one-off payment gives you unlimited to all the course's content forevermore.

Check out our other courses