👩🏼‍🏫5 modules 📙 26 chapters 📝 7 activities 🛠 10 templates
⏰ 3 hours' of content 🔖 Official certification 👨🏼‍💻 100% self-paced
This course will equip you with a tried and tested framework to build value-based segmentation by identifying your best customers, discovering the value they seek, and how much they're willing to pay for that value.
By the end, you'll understand why a customer segmentation strategy is important, and how to conduct a customer segmentation analysis as a key lever for growth.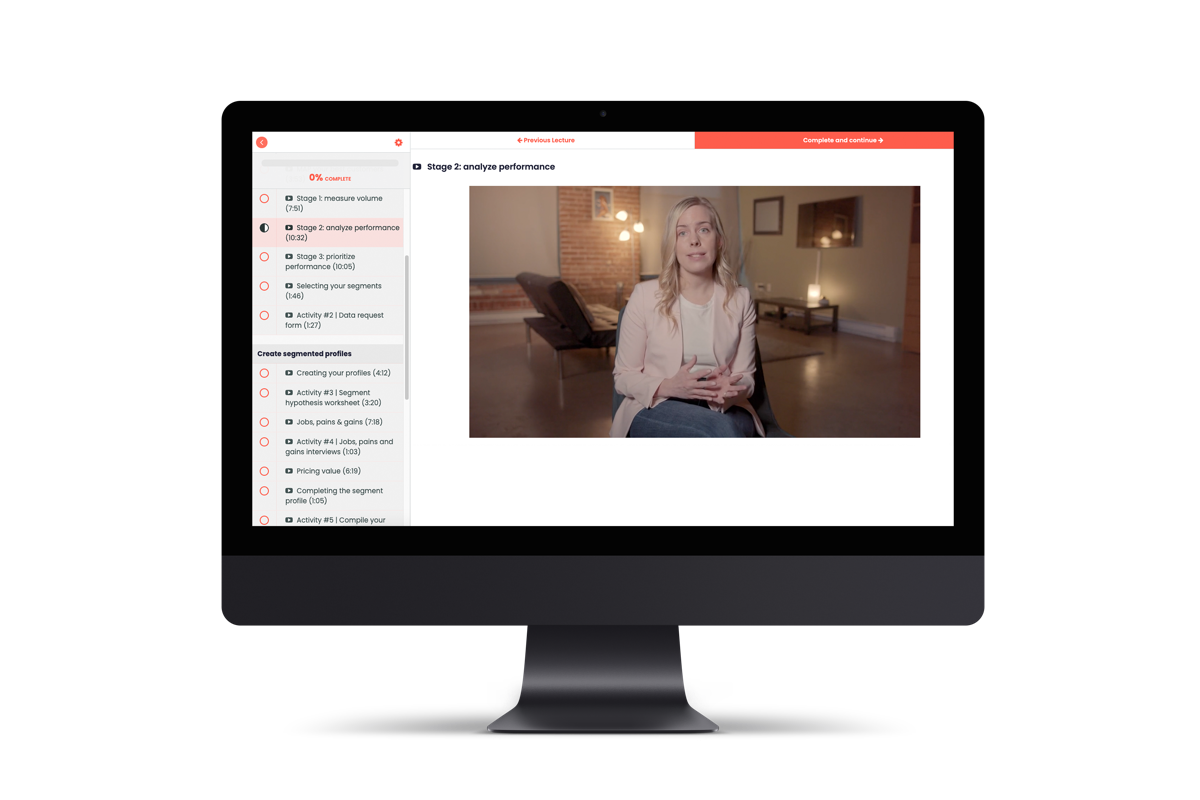 Course overview.
Ready to refine the art of value-based segmentation?
This segmentation certification covers all the essential principles and frameworks of a key product marketing principle - irrespective of where you are in your journey.
Looking for product market fit? Wanna compete in a saturated market? Perhaps you're aiming to define a new category? Whatever your goal, segmentation will help you take a customer-obsessed and focused approach to driving sustainable growth.

"This is one of the very few courses that has the correct perspective on segmentation. Tamara does not just lift the lid on the why it's important, you get the actionable frameworks, processes and customer segmentation tools to be able to do your own segmentation, further fuelling your superpower as a PMM."
- Harvey Lee, Product Marketing & Innovation Director at Avast
This course will equip you with the skills to:
✅ Build value-based segmentation
✅ Identify your best customers
✅ Discover customer value
✅ Establish how much your customers are willing to pay
✅ Build high-converting Go-to-Market strategies
✅ Customer segmentation analysis and measuring success
✅ Measure segmentation success
✅ Articulate and understand the benefit of customer segmentation
✅ Apply segmentation across your whole organization and customer lifecycle.
Whether you're a small startup or large scale-up, it's all here. 🔥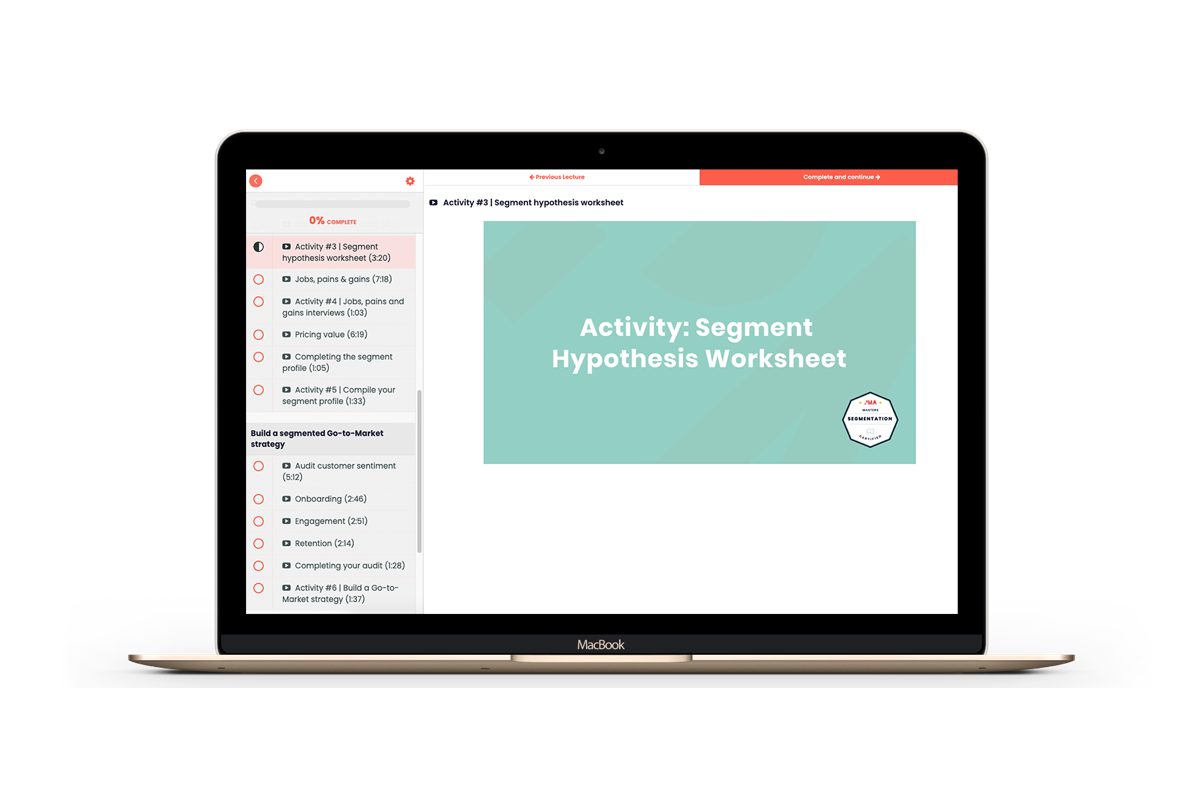 What you can expect in this course.
You're in very good hands.
Tamara Grominsky, an expert in segmentation, has a breadth of experience in bringing new products to market, positioning existing products for expansion, and driving sustainable revenue growth at high tech companies.  
She's currently the VP Product Marketing & Lifecycle at Kajabi and has previously led PMM departments at FreshBooks and Yellow Pages Canada.
She's earned her stripes. 😉

"Segmentation, targeting, and positioning are the three pillars of modern marketing. Great segmentation is the bedrock for GTM success but is overlooked by so many. This course teaches you how to build and maintain effective value segmentation. The templates' quality is second to none, and Tamara's delivery makes for a pacy and interesting learning experience. Get on board."
- Sean Broderick, Senior Manager, Product Marketing at Altify
Don't worry, we do team rates, too.
If you're looking to get a team of three or more PMMs certified, then speak to Bella about team rates on [email protected].
P.s. If you need help convincing your boss, we've done the hard part for you here.


Nothing but essential features:
🎥 Expert video tuition.
🛠 10 tried, tested, and vetted templates.
📜 Coveted certification to show off to your colleagues.
🧠 A lot of expert knowledge from an expert in the field.
⏳ Access to course content forever.
📝 7 activities to consolidate your newfound segmentation skills.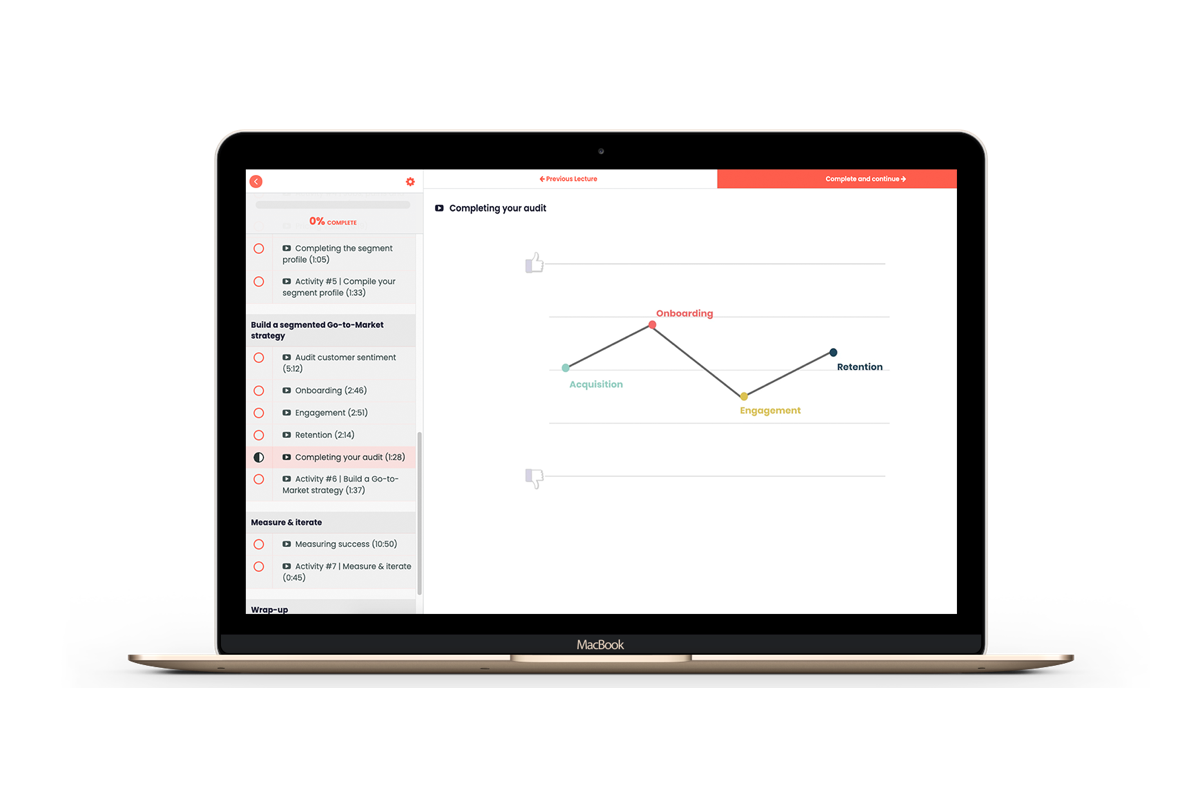 "The content is really really friggin' great. Tamara's obviously got a masterful grasp on segmentation, and the best part is that it's not presented at a theoretical level where you're left thinking, "That's nice, but how the hell do I actually DO segmentation?" Tamara provides a plethora of frameworks, templates, and real-world examples that somehow both gives you the confidence that you know what you need to do and provides a reality check on what you need to do it well."
-Tim Hinds, Co-founder, Product & Marketing at GrokSpark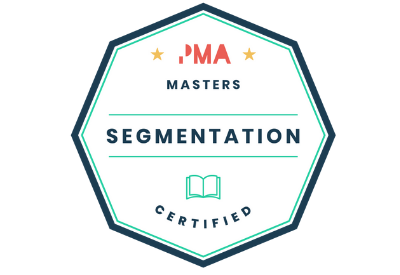 Grab your first-class ticket to:
💰 Identifying your best customers,
✅ Applying segmentation across the entire organization and customer lifecycle, and
📈 Measuring and iterating your customer segmentation.
It's all here. It's all actionable. It's all essential.
Plus, with a host of tools and templates, you'll be more than equipped to lead a segmentation exercise in your business, whether you're identifying your segments for the first time, overhauling an existing customer strategy, or applying it on a micro-level.
Masterclass by name. Masterful by nature. 🔥
"Even after learning about segmentation numerous times in school, and recently completing a segmentation exercise at work, this course was still able to provide new insights and frameworks that will no doubt be incredibly useful for future segmentation work. Whether you consider yourself to be a segmentation novice, or a pro, this course will unlock tools and take-aways to elevate your segmentation game to the next level."
-Mark Assini, Product Marketing Manager at Voices.com
FAQs
Q: Who's this course for?
A: Quite literally (almost) anyone. Whether you're looking for product market fit, competing in a saturated market, or defining a new category, segmentation will help you take a customer-obsessed and focused approach to driving sustainable growth. And this course will help you achieve just that.
Q: How does the course work?
A: The course is 100% OnDemand and fully self-paced. Once you enroll, you'll work through the modules in chronological order and be invited to take part in activities. At the end of each module, you'll be presented with mandatory exam questions and if you pass all these, you'll become Segmentation Certified!
Q: How long will the course take to complete?
A: The course content, activities, and exams will take approximately 3 hours to complete.
Q: What happens if I don't pass the exams?
A: If you fail first time round you'll be given the option to retake the exam. If you fail the second attempt, unfortunately, it means you won't get the certificate. However, all's not lost, you'll have still learned LOTS and you'll be given access to the course materials for life - so you can brush up on the bits you slipped up on forevermore.
Q: How long will I have access to the course content for?
A: For life! One, one-off payment gives you unlimited to allll the course's content forevermore. 

Check out our other courses.
Add HTML and/or Liquid to build your own custom block. Any change made via custom HTML/Liquid cannot be ensured for full compatibility with current or future versions of Teachable.