PMM Hired is your lifelong career companion. Whether you're looking to transition into the industry or make the jump to VP of PMM, it's got everything you need to
create the successful, fulfilling product marketing career you deserve

.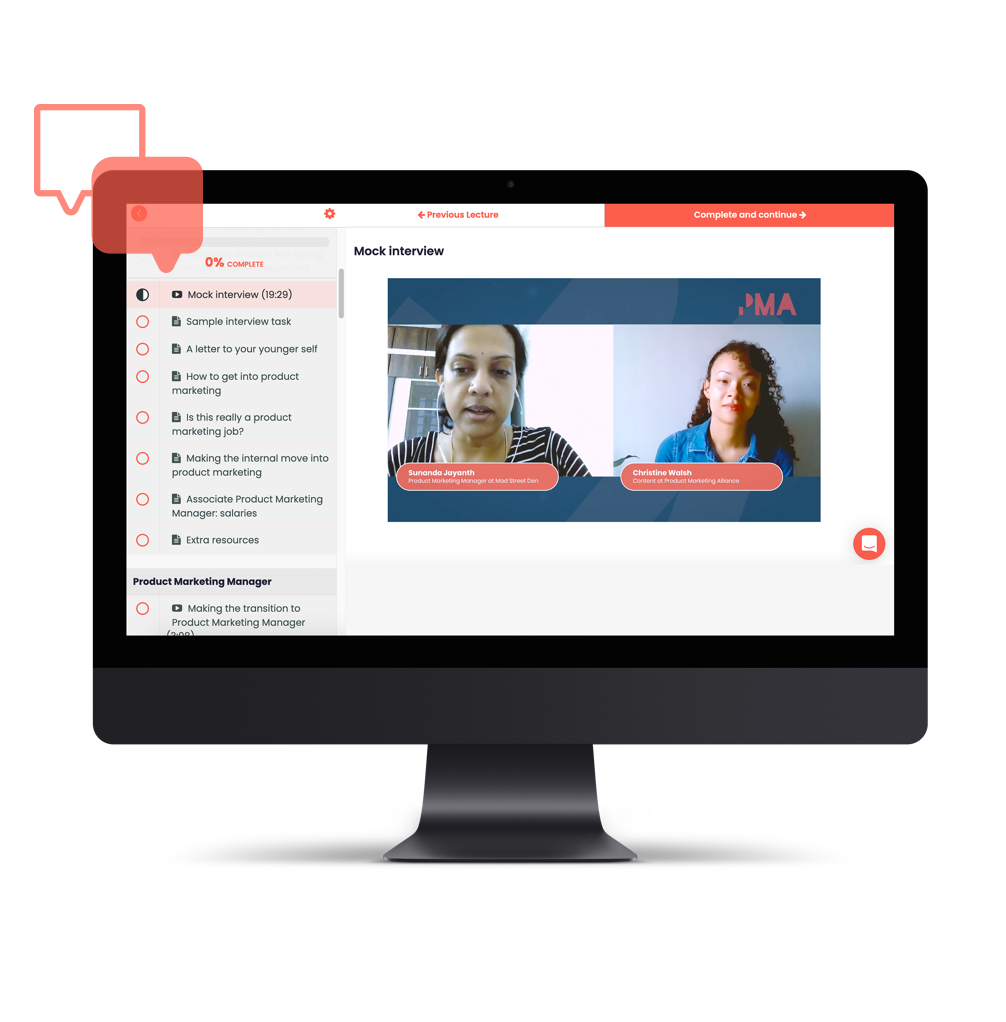 With access to PMM Hired you'll enjoy:
Exclusive

career advice

from industry-leading professionals

400+ sample interview questions

to put you one step ahead of the competition

Advice

on how to

360

potential interview questions

Mock interviews

for an in-depth look at how to answer the most commonly asked questions in PMM interviews 

The

inside scoop

on what PMMs wish they'd known at the start of their career

Exclusive content, specifically tailored to help you fast-track and

advance your career

A sneak peek at the types of

tasks

you'll be asked to complete in PMM interviews

Live, monthly workshops

to ask questions, practice for interviews, and pick the brains of uber-experienced PMMs
"PMM Hired helped me land my dream job. This hub contains a lot of great career development materials and is easily worth the little cash asked!"
-Thomas Fogt, Product Marketing Specialist at Keepit
PMM Hired has been designed to empower you to take control of your career trajectory by utilising the knowledge and experience of product marketing innovators who have gone before you. 
We're home to the world's largest online community of product marketers and all our advice comes straight from the source - you can rest assured you're acquiring tried and tested methods to advance your career from people that know how to walk the walk.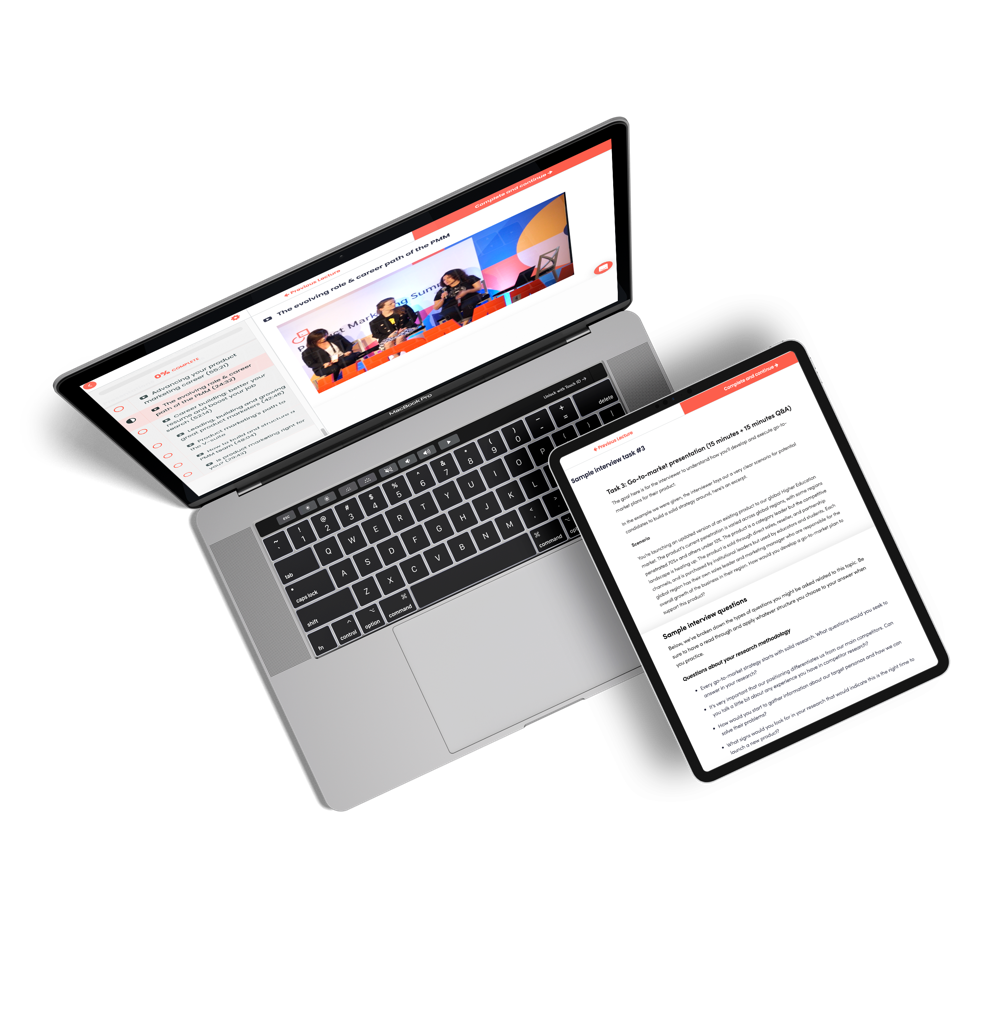 A taste of what's inside.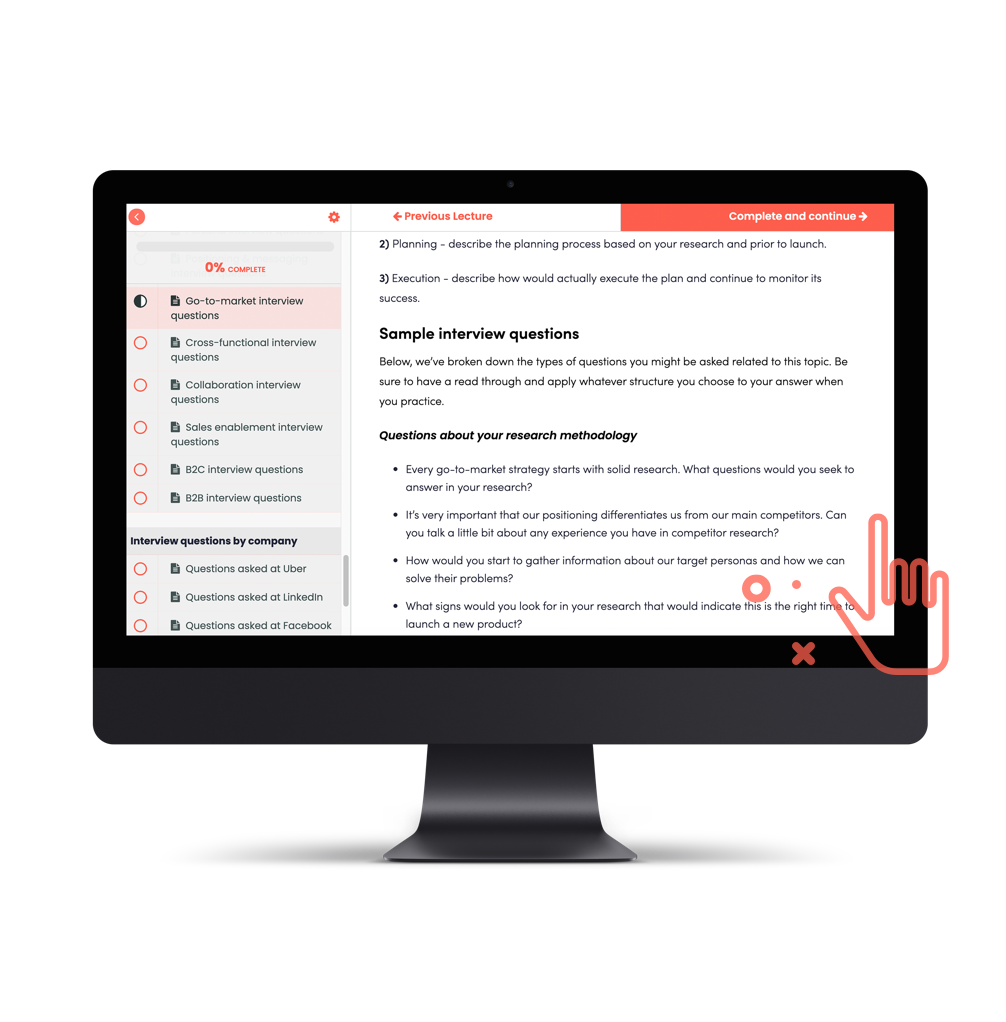 PMM Hired's for anyone who wants to either start a career in product marketing, or progress in the career path they are already on.
If you're looking to level up in terms of skill-set, knowledge and confidence, then you're in the right place. 
It's also here to help solve common PMM problems and answer your questions.
Finding it difficult to find your voice with the C-suite? Need to figure out the right way to socialize your customer research findings?
We've got the answers to these questions and many, many more.
Level up your career.
PMM Hired is your lifelong career companion. One-off purchase. Lifetime benefits.
Built with PMMs from orgs like:
"
PMM Hired is an incredible resource that helps Junior to Senior level Product Marketers in their career journey. It's a deep dive into roles and core skills required to thrive and what major organizations are looking for from candidates. In this competitive job market PMM Hired is going to help you stand out as a top candidate and land that role.
" 
-Kelly Gill, Product Marketing Manager at Sirch
"I love that you separated the hub by the different levels of PMM. The transition videos/explanations were especially useful for PMM to Sr. PMM for me (as I am between the two roles and orgs have told me I need more experience). I loved that this specified where the responsibility increased. I found PMM Hired great and very useful for my upcoming interview."
-Ashley Klepach, Product Marketing Manager
FAQs
Q: What stage of the career ladder is PMM Hired aimed at?
A: All of them! We've covered each of the core titles: Associate Product Marketing Manager, Product Marketing Manager, Senior Product Marketing Manager, Director of Product Marketing and VP of Product Marketing. Within each, you'll find mock interviews, interview questions, videos, articles, and more.
Q: How long will I have access to PMM Hired for?
A: Forever. 😊
Q: What are the monthly workshops all about?
A: They happen once a month, every month, last one hour, and are your opportunity to network with fellow job hunters and hirers, ask questions about anything career-related, practice and prep ahead of your next interview, or just get advice in general on what it takes to attain that next promotion.
Q: Will more content be added to PMM Hired?
A: It sure will, each month, we'll add brand new resources for you to read, watch and use. Think of PMM Hired as your career companion - we're with you for every step of your product marketing career. 
Q: Will I be able to apply for jobs through PMM Hired? 
A: Once you've reaped the benefits of all the great advice in PMM Hired, you can then go to our jobs page to see the latest opportunities in the world of PMM. 
Check out our other courses.