⏰ 7+ hours' of content 👩🏼‍🏫 8 modules ✅ 57 exam questions 📙 11 templates 📝 5 coursework tasks 🔖 Official certification 👨🏼‍💻 100% self-paced

Course overview.


Personas have the power to make or break not just your product marketing efforts, but that of your sales, marketing, product, engineering and customer success counterparts, too. 
Throughout this course, we'll be exploring quite literally every element of the persona process. From types of personas, use cases to persona pre-work, interview guides to data consolidation, company-wide communication plans to reviewals, you name it, this course has got it.
By the end of this course, you'll know the different types of personas (user, buyer, brand…), how many personas you should have, what having personas means for your company, how to create or build a persona, and much more.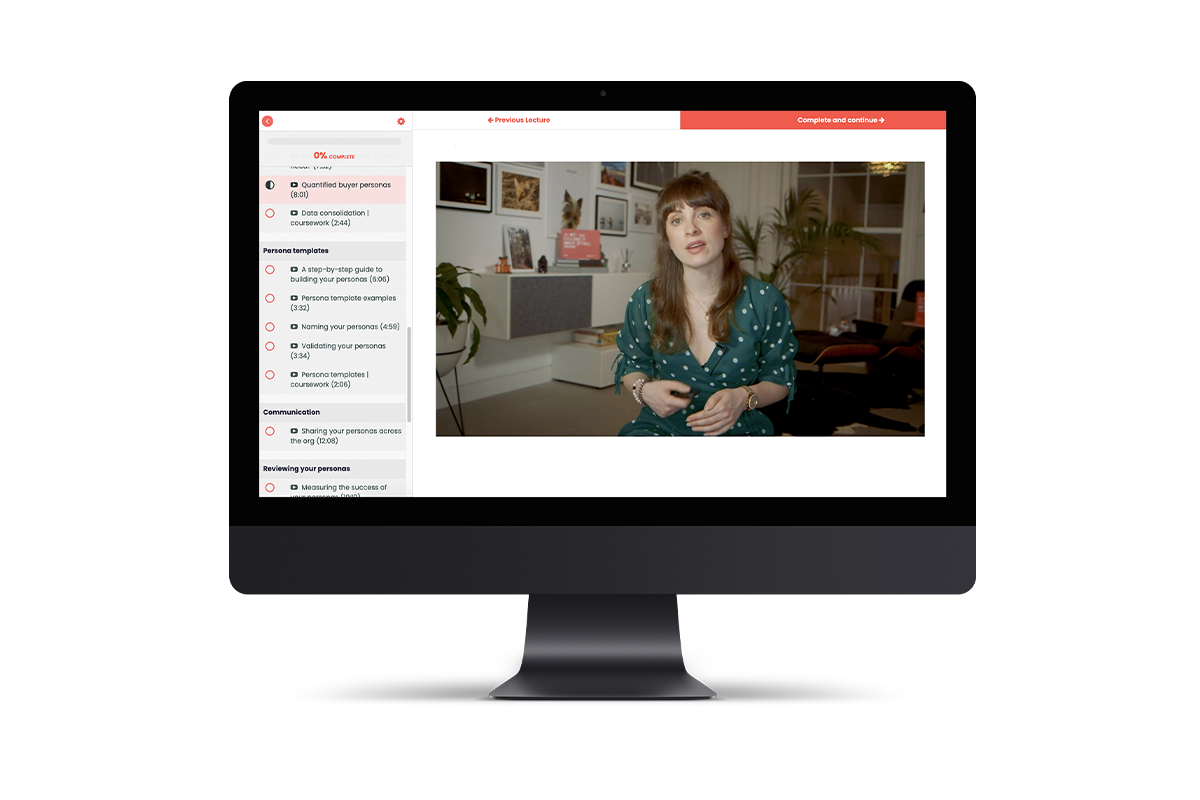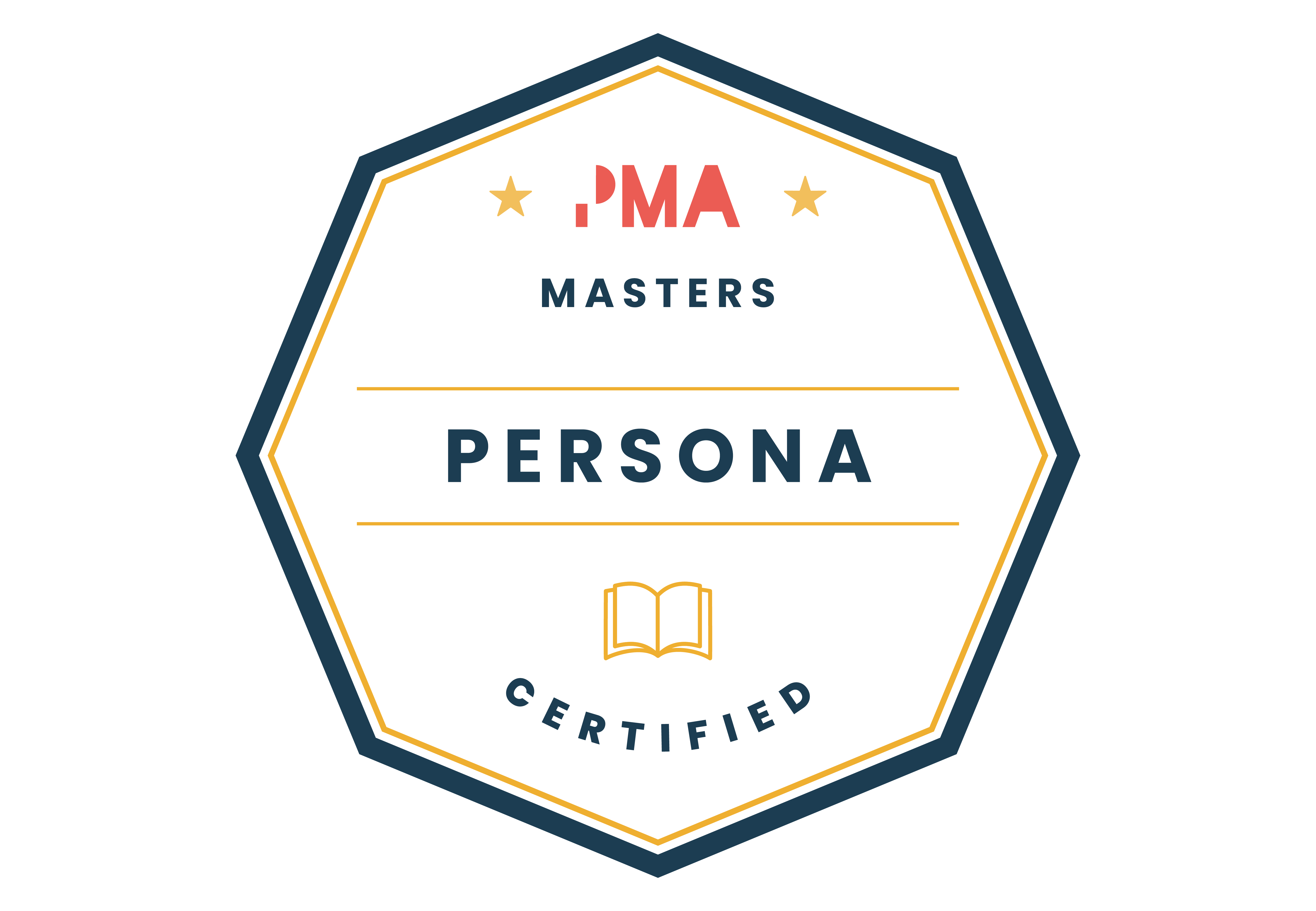 By the end of this course you'll be able to:


🔥 Create, build, and deliver personas that actually work.
💪 Streamline the persona process by focussing only on extracting and mining data that drives bottom-line impact.
⬆️ Take your entire company's product, marketing, sales, and customer-focussed efforts to the next level.
🎯 Get everyone in your org rallied around your personas and clearly demonstrate the tangible value they deliver.
👌 Understand where and when personas should be used and provide clear use cases to key stakeholders across the business.
💁🏼‍♀️ Show off your shiny new certificate to everyone in your network.

"It's essential for product marketing to own persona development - knowing personas and their pain points drives everything from targeted messaging to tailored sales enablement and understanding the voice of the customer. This course is essential for any product marketer creating personas for the first time, as well as for those refreshing and validating existing personas as the course contains a blend of theory, practical advice and best practice tips."

Louise Dunne, Product Marketing Manager at Linnworks

By product marketers, for product marketers.
Here at PMA, we're home to the world's largest community of product marketers. By a long way. And we don't let that go to waste. Our persona masterclass has been built with the support of PMMs from orgs like 👉
P.s. If you need help convincing your boss so you can be the next logo, we've done the hard part for you here.
Unlock an additional 24+ courses 🔓

For the cost of just four Masters courses ($500 each), you'll gain access to our entire suite of courses,

700+ hours of strategy content, templates & frameworks, mentorship opportunities, and more when you become a Pro+ Member.


We're talking $15,000+ worth of PMM resources for $1,999. 👀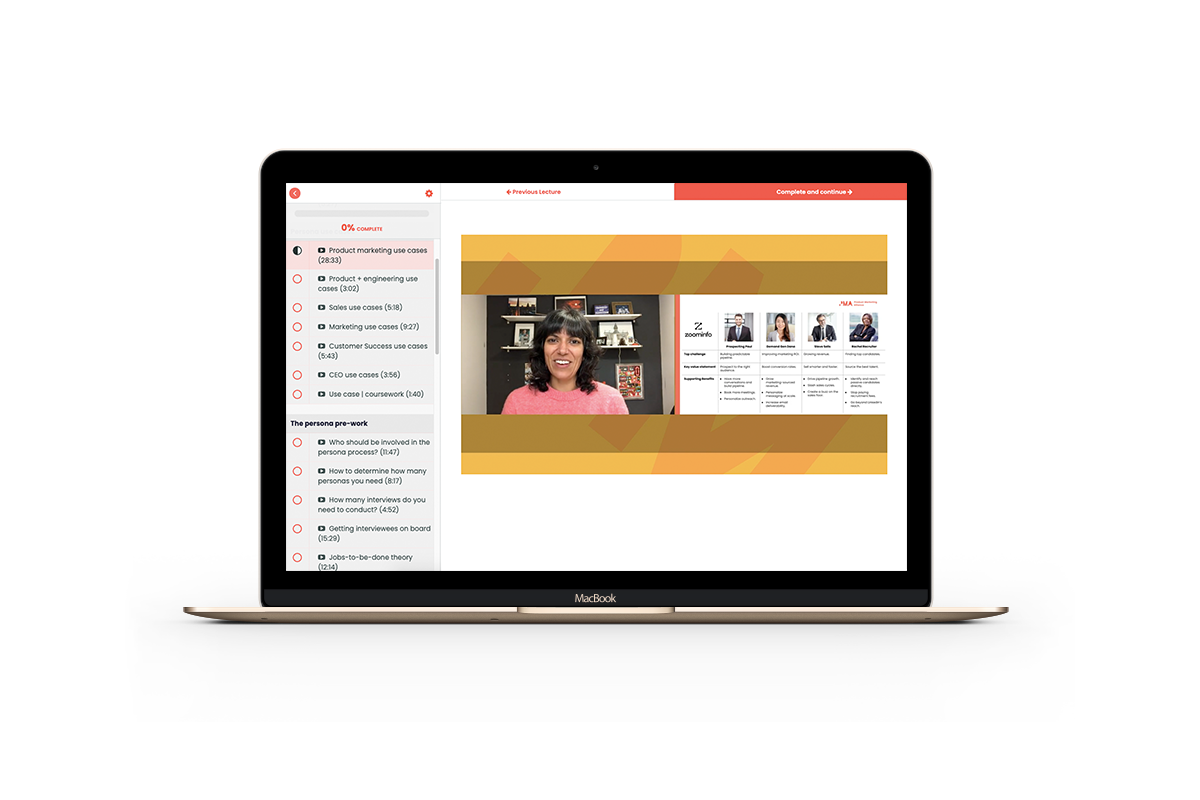 What's included when I enroll?


👨🏼‍💻 5+ hours' worth of course content.
📹 2+ hours' of bonus footage featuring PMMs from orgs like IBM.
😃 Tons of real-life case studies throughout.
📝 5 optional (but recommended!) coursework tasks to consolidate your learning.
✅ Marked exams at the end of every module.
🛠 11 templates ready for you to use.
👌 Access to all content for life.
🔖 Official persona certification if you pass all the exams.

A sneak-peek of what's inside.
"Product Marketing Alliance's Persona certification is a must-have for
ANY
marketer. It's nice to say that you want to understand your audience, but having a persona strategy puts it into action."

Pat Timmons, Social Media at Drift

Don't worry, we do team rates, too.

If you're looking to get a team of three or more PMMs certified, then speak to Tom about team rates on [email protected].

FAQs.

Q: Who's this course for?
A: Anyone with an interest in building awesome personas. If you're brand new to the persona process, this masterclass will provide you with a comprehensive, step-by-step guide that'll arm you with everything you need to know to go away and create impactful personas.
If you're a product marketing pro who's done more rounds of personas than you can remember, this course is still for you. Built using only the latest trends and proven practices from PMMs all over the globe, you're guaranteed to walk away with new ideas sure to revolutionize your current approach.
Q: How long will it take me to complete the course?
A: It depends how quick you work your way through alllll the materials. The course itself comprises 5 hours of content in which you'll be required to complete exams on. On top of that, you'll be given access to 2 hours of bonus footage and although these aren't mandatory, we'd definitely recommend giving them a watch! 
Finally, you'll also be given the option to complete five coursework tasks as you go - these aren't mandatory either but they're well worth getting stuck into, to help you put everything you've learned into practice and walk away with a pack of actionable takeaways to go and apply right away. 
Q: What happens once I've completed the course?
A: A couple of things. Providing you've passed all the exams, you'll be issued your certificate pretty much on the spot. You'll also be given entire access to all the content for life, so if you wanna brush up on anything down the line, you'll be able to refer back to every video, template, and coursework task whenever you want. 
Q: Will I be able to ask questions?
A: You sure will. Within every section, there'll be an area to ask questions as you go, as well as see the questions answers other students have asked and received.

Check out our other courses